Everyone always associates Indian food as your normal butter chicken and beef roganjosh, little do we know that there is a much larger world to Indian cuisine than the typical curry and naan. As the manager has said, if the menu of Zaffran was to present all the different flavours of the different regions of India, it would take a thousand years for the same dish to be repeated…this may or may not be a hyperbole!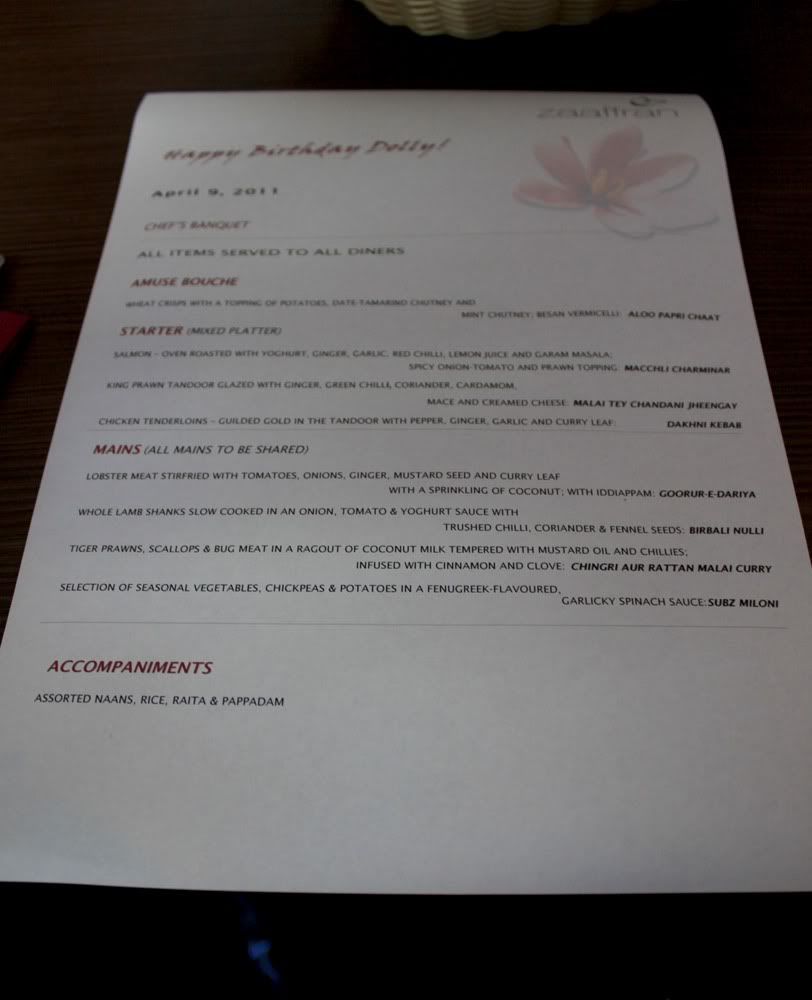 (love the complimentary print out menu)
Thus the lovely people at Zaffran have very kindly allowed us to experience one small part of Indian variety through their diverse banquet as part of Dolly's 22nd birthday celebrations.
To start off our Indian food odyssey, we were presented with pappadams with raita dipping sauce; this was very different as the pappadams were not made with your normal corn but with wheat instead. Sadly this change of ingredient meant that the pappadams had a tough texture to them that made them feel stale, and Dolly felt they were a tad salty too. The raita sauce however was a quite nice and refreshing with a bit of a kick to it with the addition of mint.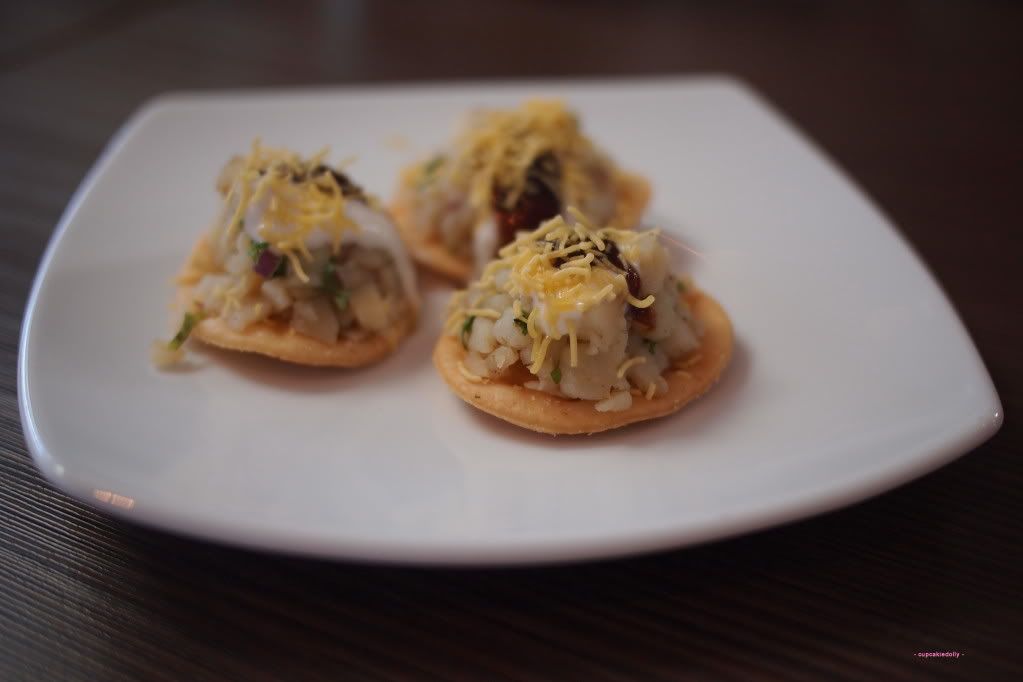 ALOO PAPRI CHAAT- WHEAT CRISPS WITH A TOPPING OF POTATOES, DATE-TAMARIND CHUTNEY AND
MINT CHUTNEY; BESAN VERMICELLI
Next on our banquet was the ALOO PAPRI CHAAT these were curious wheat crisps which gave a nice crunch to every bite, while the tamarind chutney created a sweet and spicy heaven in your mouth. To return us back to reality, the appetizer used the mint chutney to freshen our senses.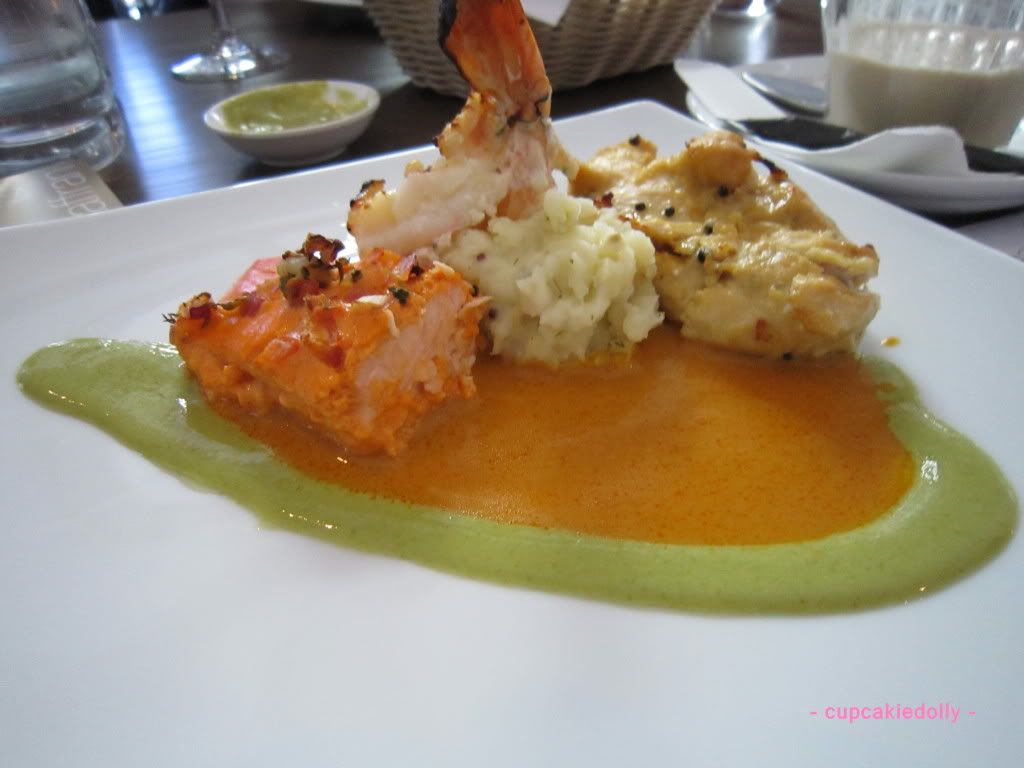 MACCHLI CHARMINAR - SALMON – OVEN ROASTED WITH YOGHURT, GINGER, GARLIC, RED CHILLI, LEMON JUICE AND GARAM MASALA; SPICY ONION-TOMATO AND PRAWN TOPPING
MALAI TEY CHANDANI JHEENGAY - KING PRAWN TANDOOR GLAZED WITH GINGER, GREEN CHILLI, CORIANDER, CARDAMOM, MACE AND CREAMED CHEESE:
DAKHNI KEBAB - CHICKEN TENDERLOINS – GUILDED GOLD IN THE TANDOOR WITH PEPPER, GINGER, GARLIC AND CURRY LEAF:
After the appetizers, we had our starters, which was a mixed platter of salmon, king prawns and chicken all doused in 2 rings of orange spice and green mint sauce. Due to my inability to acknowledge seafood as food that is easy on the nose, I did not try the salmon. However according to Dolly, the salmon was cooked perfectly, was tart yet spicy and not too hot (which is Dolly's worst nightmare).
I might like to add that usually I would gag at the smell of seafood but these two items of the ocean did not have the usual smell and I even ventured to try the king prawn (yes its Dolly's challenge to try to get me to eat seafood by the end of the year).
The prawn was well flavoured but I felt the flesh was a bit tough. The chicken on the other hand, was very soft and tender, the pepper gave a burst of spice when you bit into them and was a pleasant surprise.
Dolly – The chicken was lovely and tender and just totally busted with flavour.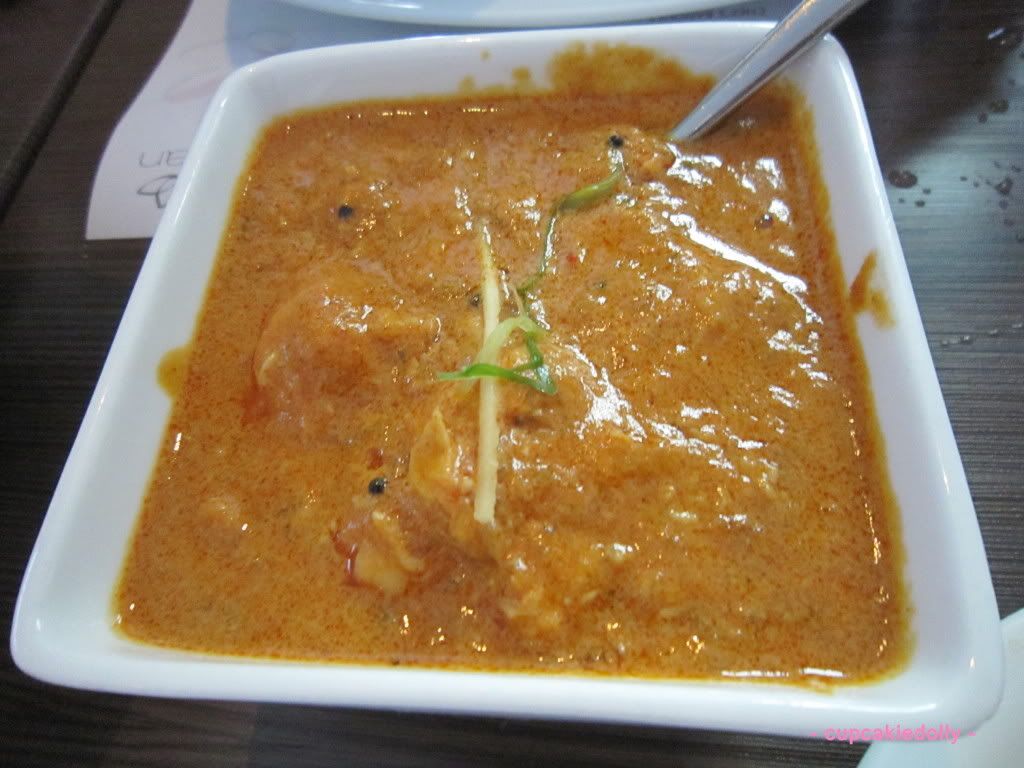 GOORUR-E-DARIYA - LOBSTER MEAT STIRFRIED WITH TOMATOES, ONIONS, GINGER, MUSTARD SEED AND CURRY LEAF WITH A SPRINKLING OF COCONUT; WITH IDDIAPPAM
Now when one asks you about what an Indian main would be, the last thing you would say is lobster, lamb and prawns. To add to that none of our mains included a dish that was a curry dish! The lobster sauce was very flavoursome and had the homely feeling like a massamam curry.
Dolly – I've been looking forward to lobster all week, the lobster sadly was a bit overcooked, though the sauce totally made up for it, chunky, full of flavour with an inconsistent texture, I definitely enjoyed the mild sauce to complement it. If I could, I would have asked to takeaway the sauce and only the sauce!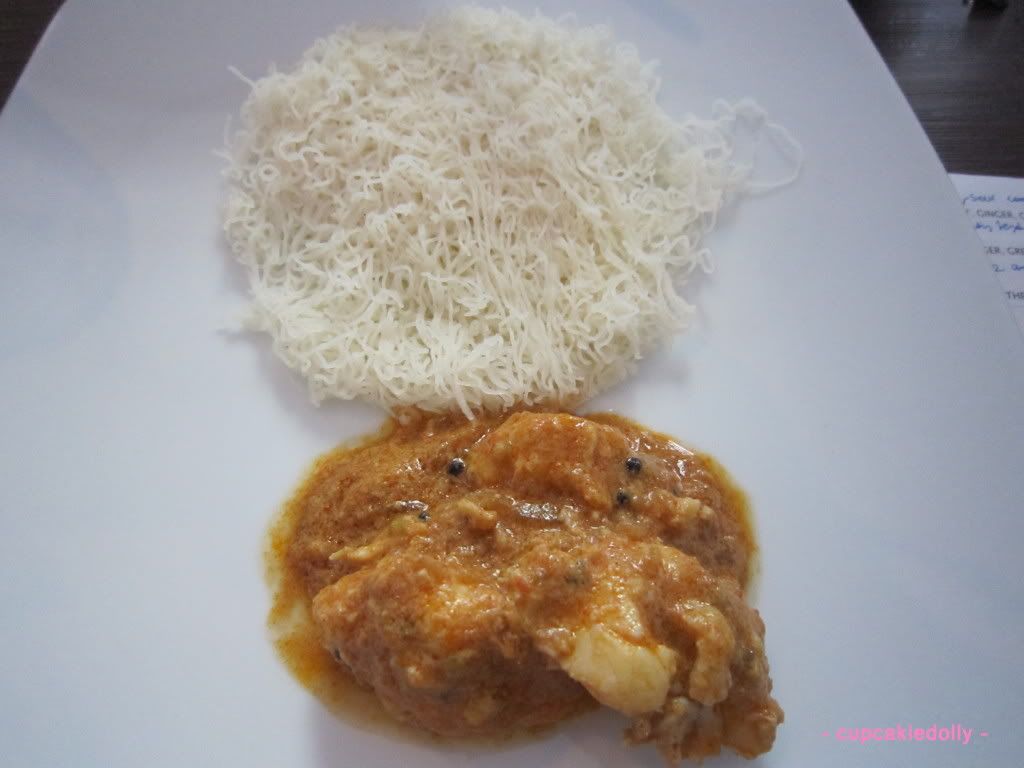 Dolly – I loved it how we had to wrap the lobster in vermicelli, it sort of made it viet cuisine.. ONLY WITH LOBSTER!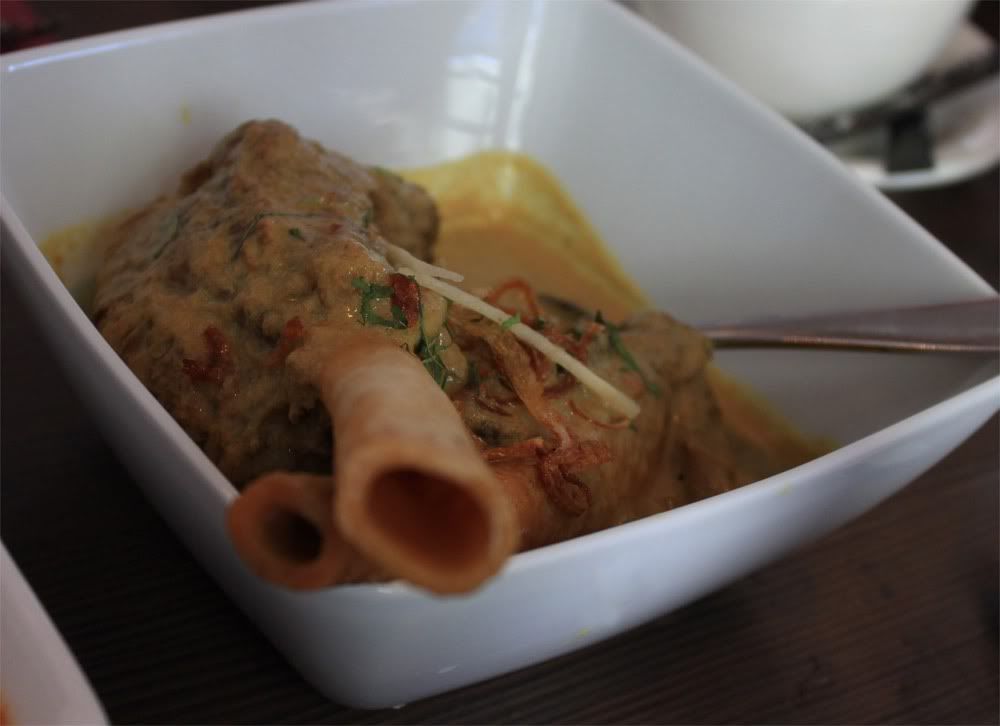 BIRBALI NULLI - WHOLE LAMB SHANKS SLOW COOKED IN AN ONION, TOMATO & YOGHURT SAUCE WITH TRUSHED CHILLI, CORIANDER & FENNEL SEEDS
The lamb shanks were delicious they were very well cooked and tender; the spicy sauce had managed to find its way in between the slices of meat which flavoured the meat very well.
Dolly – Definitely one of the best, I'm a very tentative person when it comes to lamb, the smell, the odour scares me away! Honestly speaking this tasted like beef, zilch odour!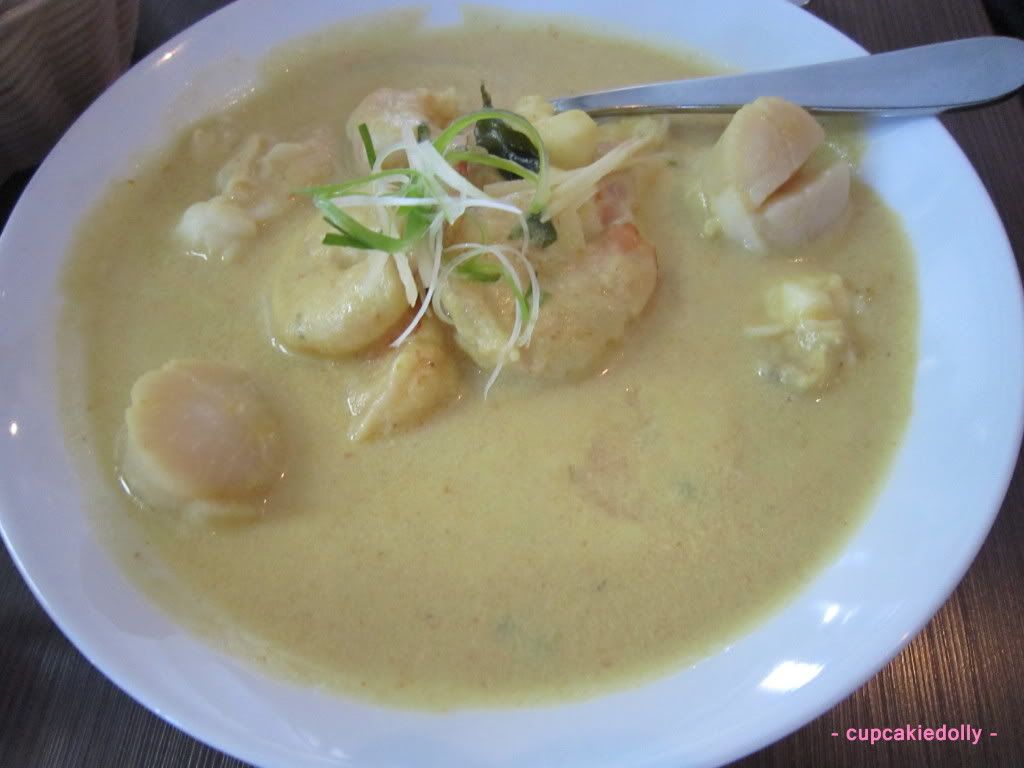 CHINGRI AUR RATTAN MALAI CURRY - TIGER PRAWNS, SCALLOPS & BUG MEAT IN A RAGOUT OF COCONUT MILK TEMPERED WITH MUSTARD OIL AND CHILLIES; INFUSED WITH CINNAMON AND CLOVE
The prawn and scallop dish was a hit with the other guests at the party and everyone's consensus was that it was a very tasty and creamy dish, the scallops were very well cooked and the sauce was a good compliment to the seafood.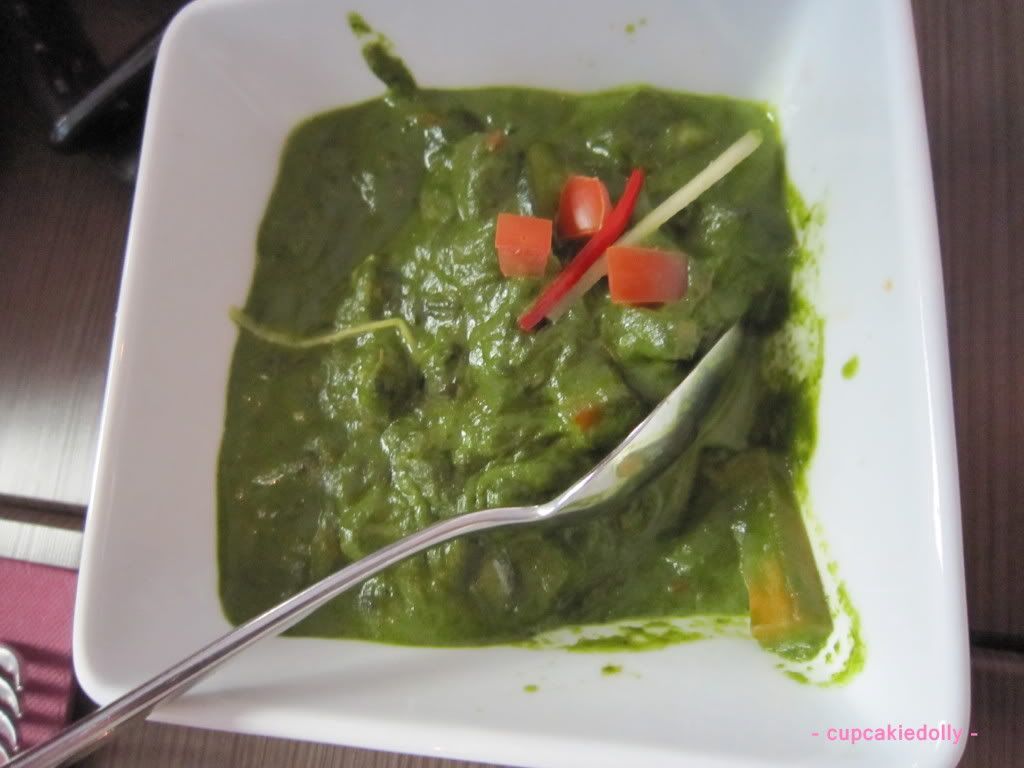 SUBZ MILONI - SELECTION OF SEASONAL VEGETABLES, CHICKPEAS & POTATOES IN A FENUGREEK-FLAVOURED, GARLICKY SPINACH SAUCE
The seasonal vegetable mix was an interesting way to make your normal steamed veges into a fun side. The spinach sauce was very tasty and went very nice with the naan. Unfortunately, the sauce was still unable to hide the bland taste in the steamed veges.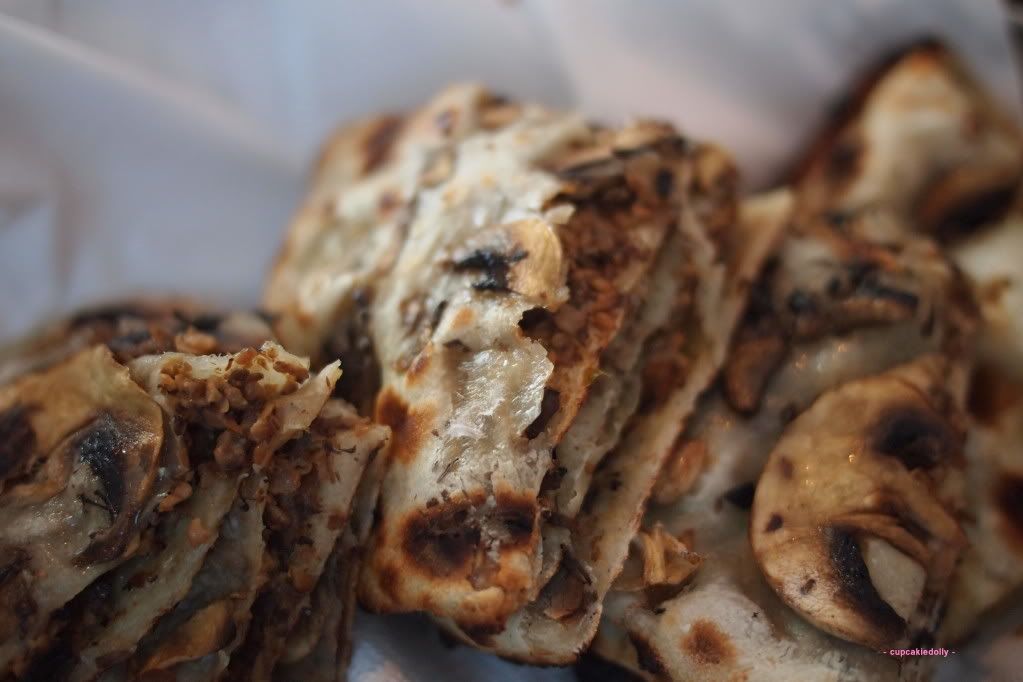 To go with the mains, there were 3 different naans; plain, garlic and mushroom naan. The mushroom naan was by far the most interesting one as when the waiters brought them to our table; we were hit by an initial pungent fungi smell. But when we ventured to try the curiosity, it was very hard not to finish the rest. The saffron rice was quite fragrant, but on a table with so many offerings it was definitely outmatched by the other food.
Dolly - The Mushroom naan totally bought me off my feet. If only there was a sprinkle of cheese, to obesity!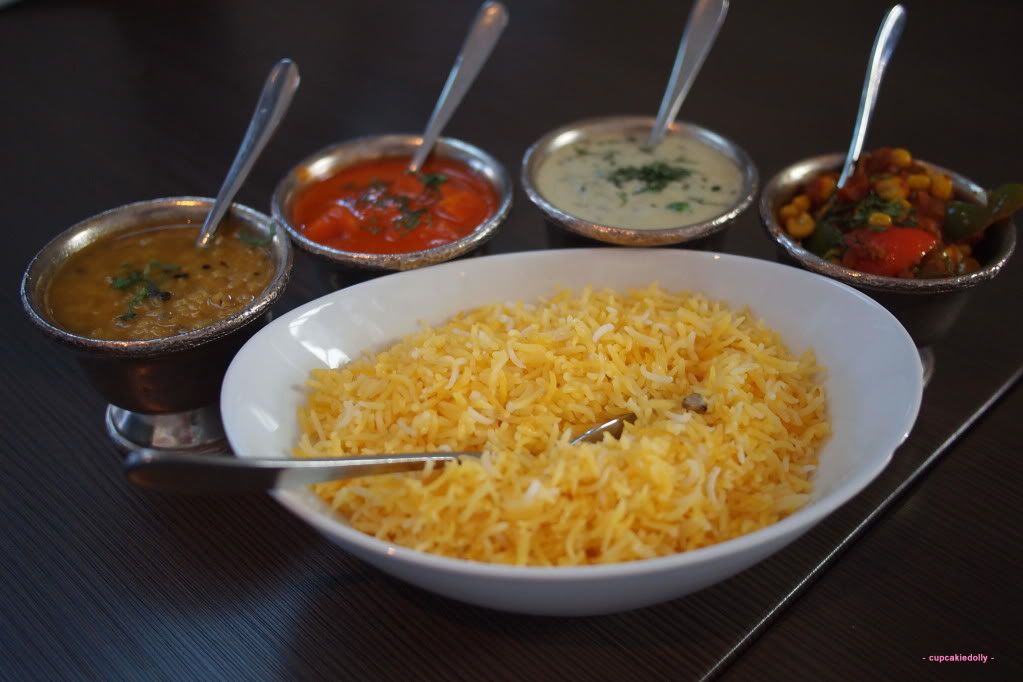 METHI MATTAR MALAI - GREEN PEAS COOKED WITH FENUGREEK IN A CREAMY SAUCE
Dolly – Eating vegies a whole day is one thing, being a vegetarian is another. I was fortunate enough to nab a small platter of Emma's vegetarian banquet. I must say the METHI MATTAR MALAI is absolutely superb. The creamy sauce and peas were a BURST in flavour. Definitely worth tasting!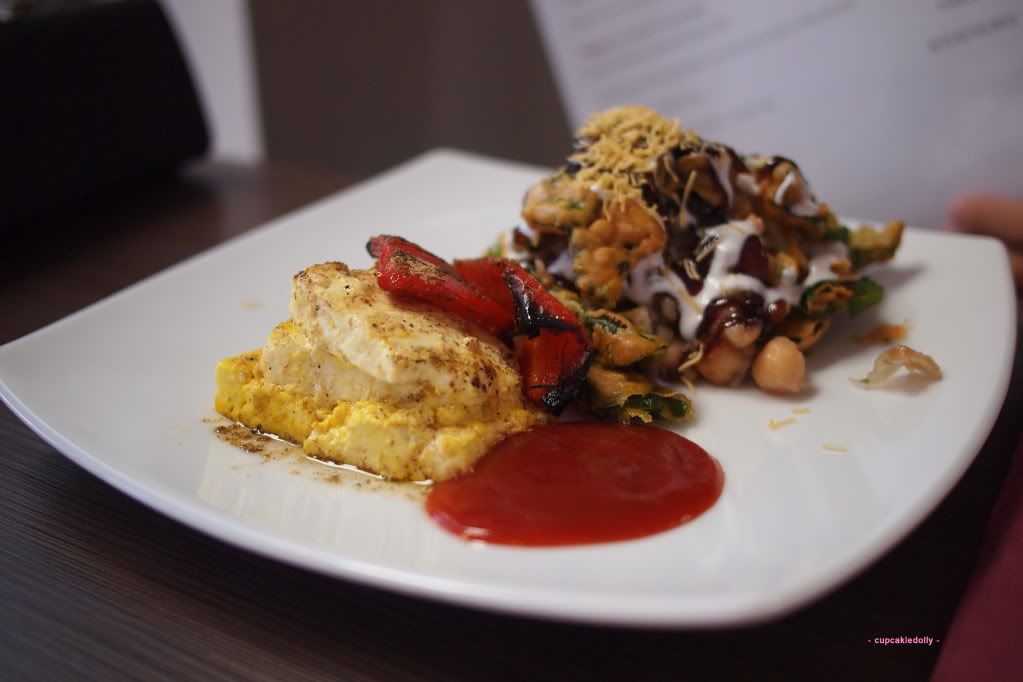 Zaafran even created a 7 course banquet for my friend Emma who doesnt eat onion, leeks and garlic. They created such a generous and mouthwatering meal. I must confess very little resturants cater for vegies, if so its all mudane!
Heres are some quick snaps of our mocktail and cocktails :)
(MUST TRY- toblerone)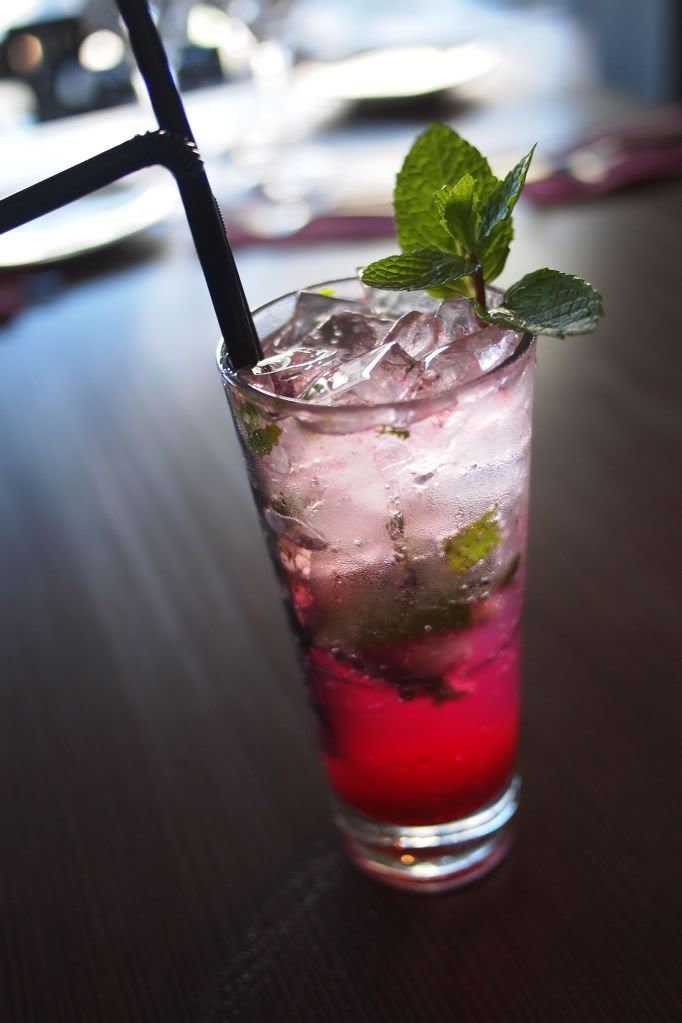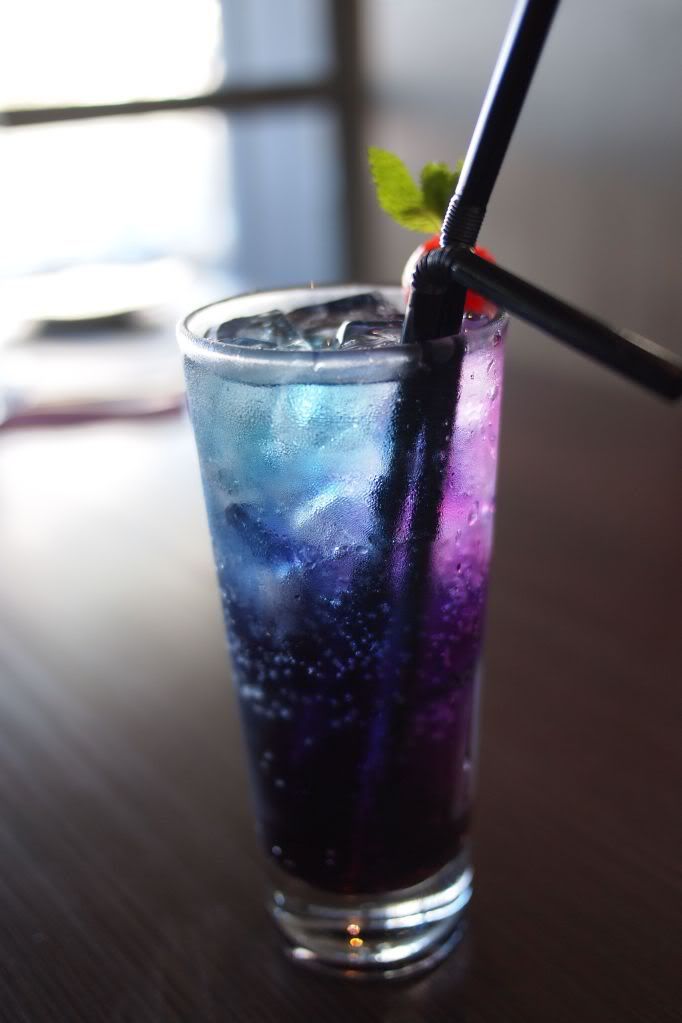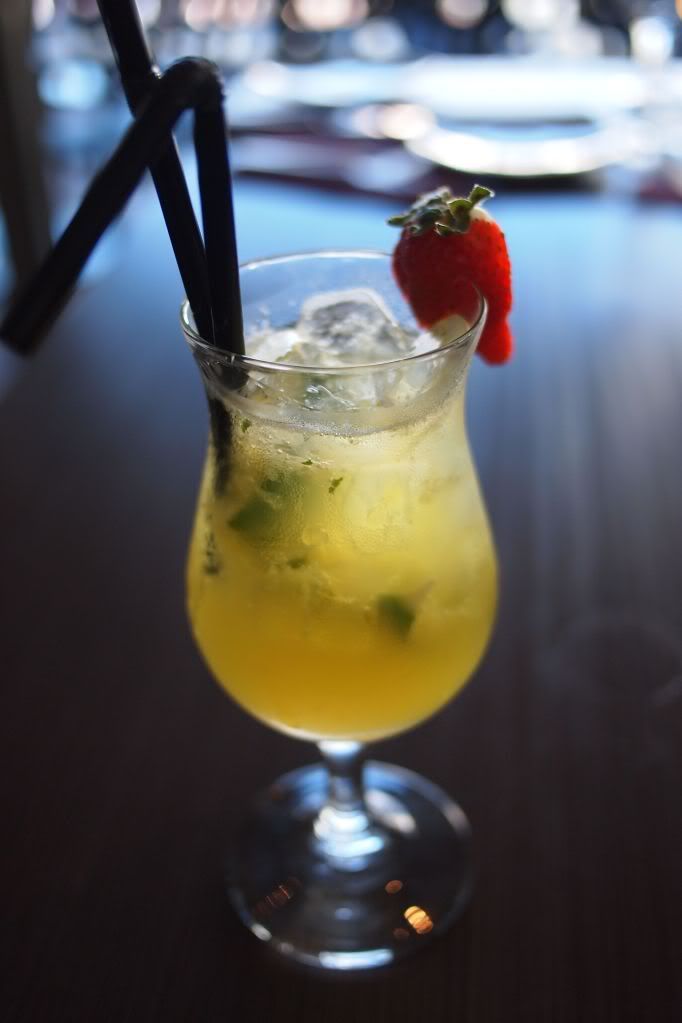 Dolly's End notes:
-The service at Zaaffran is of great excellence and it is pleasing to see such a fine restaurant provide great service despite is position and views. Will we come back? Yes we will.. so much more to eat. Nom nom nom
- Vegetarin and vegan friendly
-They offer a lovely variety of mocktails to cocktails – must try – toblerone!
- Love their chai latte, they add condesed milk to it, such a lovely twist!
- They even offer bbq banquets (so untypically Indian, i cant wait to try it soon)
-Unfortunately their signage is a bit small when walking towards Harbourside. Maybe this (from memory was a red and yellow sign) could be improved and given a bit more exposure, easily missed.
- Zaaffran has now set a precedent to my Indian cuisine
Quote of the day:
"To accomplish great things we must not only act but also dream, not only plan but also believe"
- Anatole
With Love,
Dolly and Ken
Place – Zaaffran
http://www.zaaffran.com/