Finally, We made it.
We endeavoured to visit Pyrmont markets last month, though missed out by 30 minutes. I don't really understand the hype these markets received, my colleague is a devoted Growers Marketer. I honestly found nothing of interest, everything was definitely overpriced. We didn't end up getting anything but egg rolls and mango/peach and blood orange juice.
Ken –
Since it was the start of the month as well, we decided to pay a visit to the Grower's market at Pyrmont, which was much of a letdown as there were way too many people and not enough space/stalls for everyone. Nevertheless it was fun walking around and trying homemade jams/cheeses and spewing over how overpriced the stuff here was! One thing to note when going to these markets is that the food runs out very quickly! Most of the stalls were out of one of their ingredients for their bacon and egg rolls by 10.15, though the buns of these newly reduced egg buns were very fresh and delicious.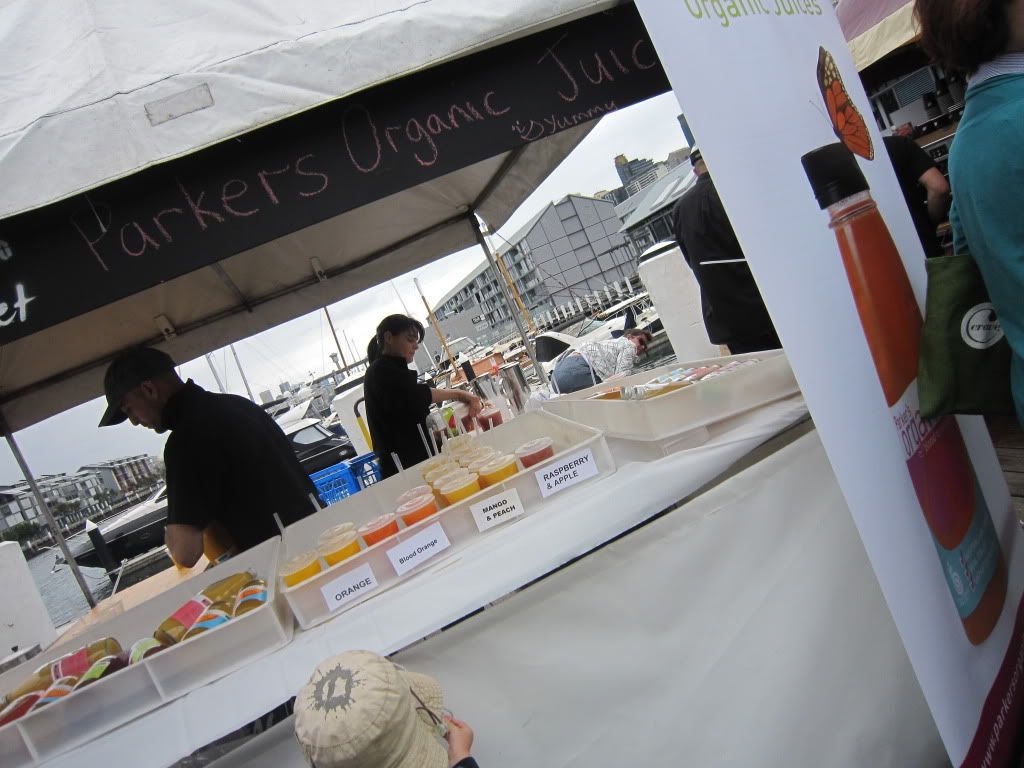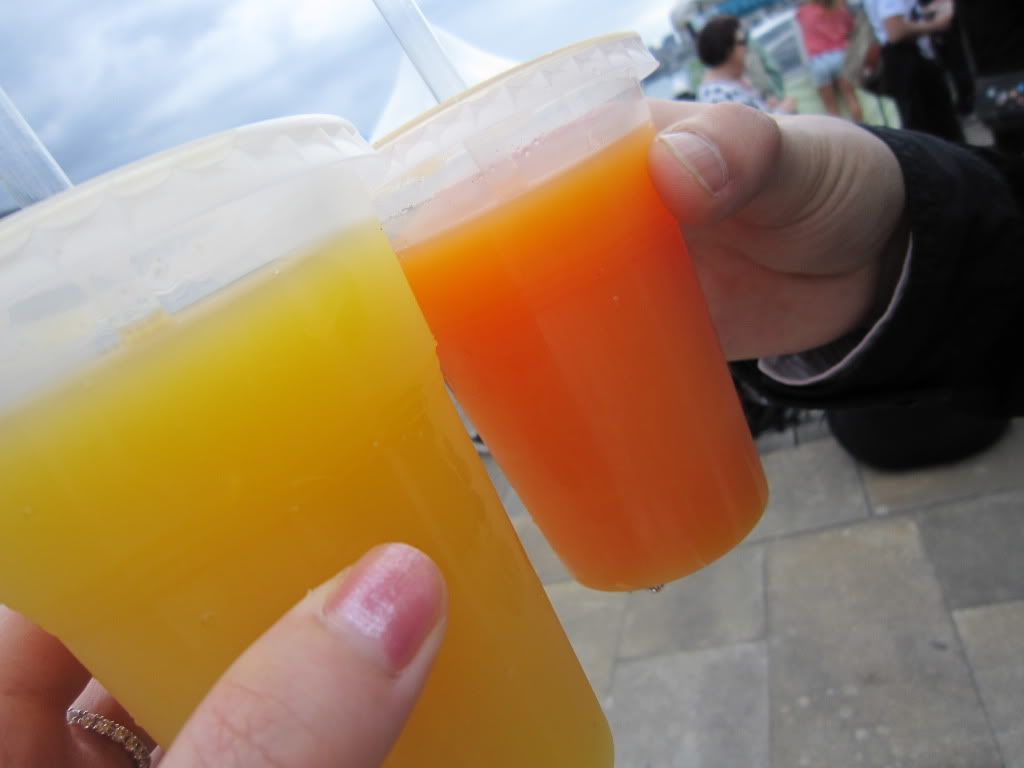 Mango & Peach vS Blood orange juice
Here's the verdict:
Mango and peach was heavily watered down, I originally asked if this was pure =(. It was too sweet for my liking. Opposed to Blood Orange which was as sour as lemon and heavily watered down.
After the markets me and ken walked to my favourite park and waited till 1pm for our high tea booking. Ken being a guy, has never experienced proper high tea, i remember him rambling on and on how his boss went and his experience when we were friends. I originally planned to bring him to The Victoria Room, though things changed I booked Sir Stamford instead =). Ken's original first time high tea was T2 – Macquarie Centre last month, though it was more of a snacking session then the real deal. So here's the real deal, I've promised you.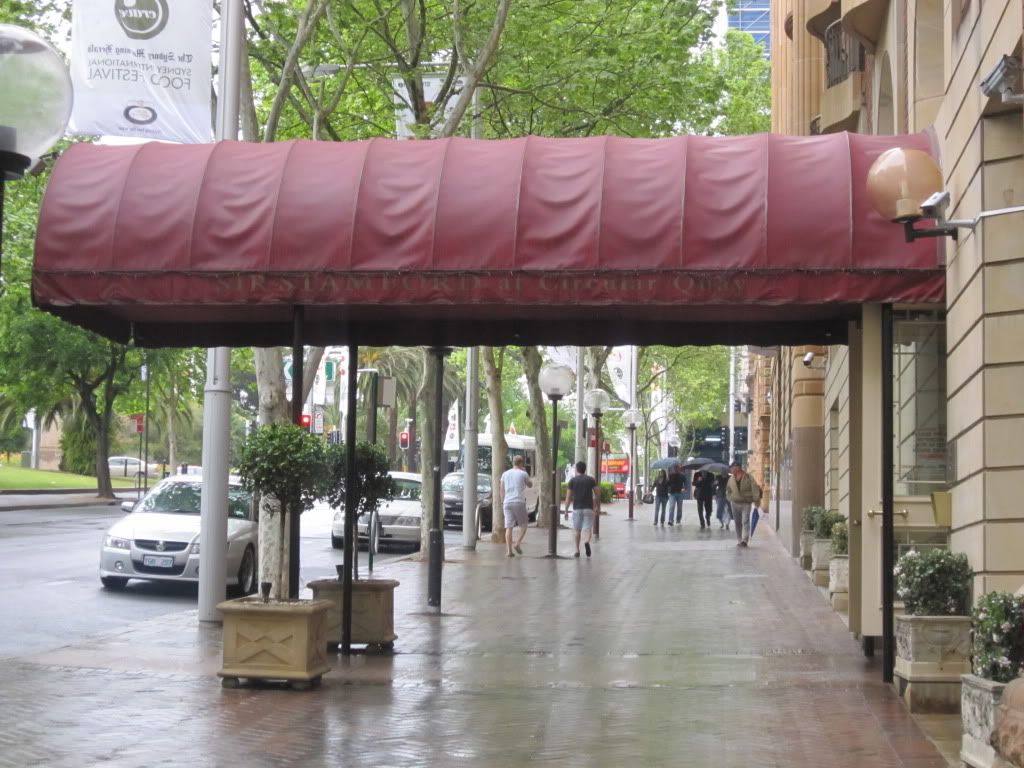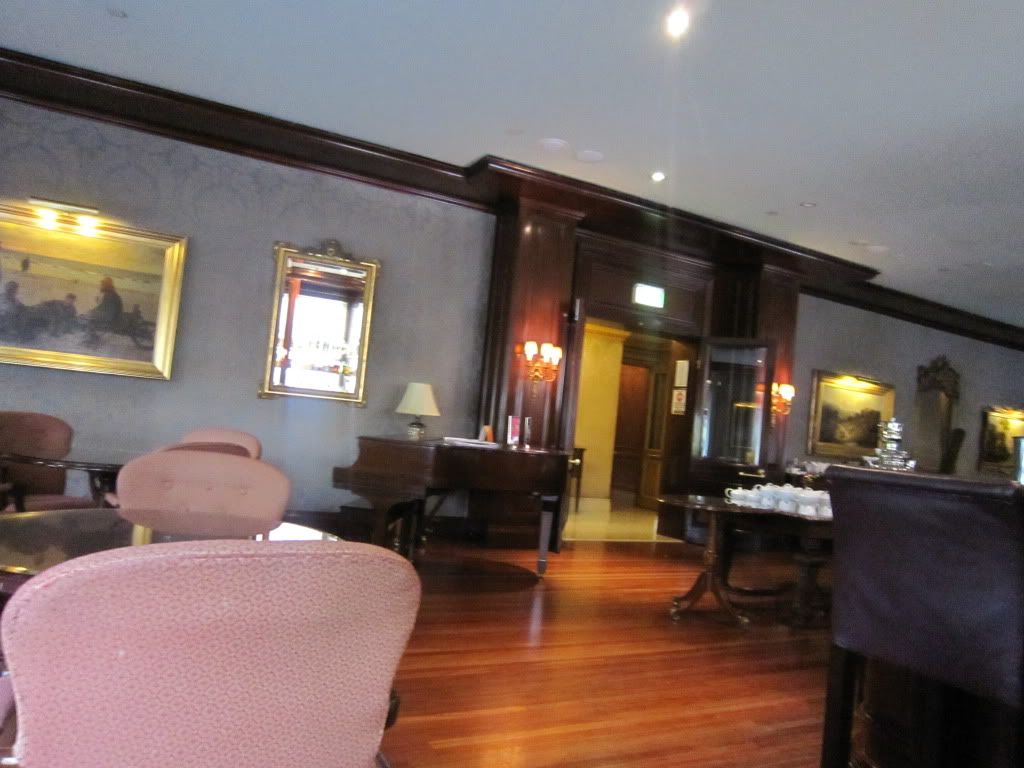 Ken –
So I haven't had proper high tea before so Dolly promised to take me to a proper high tea so I would know what it's like. Surprisingly she actually lived up to her promise and off to Sir Stamford we went for high tea!
I was very hungry by 1pm, and forgot to take a photo of us before demolishing the sandwiches.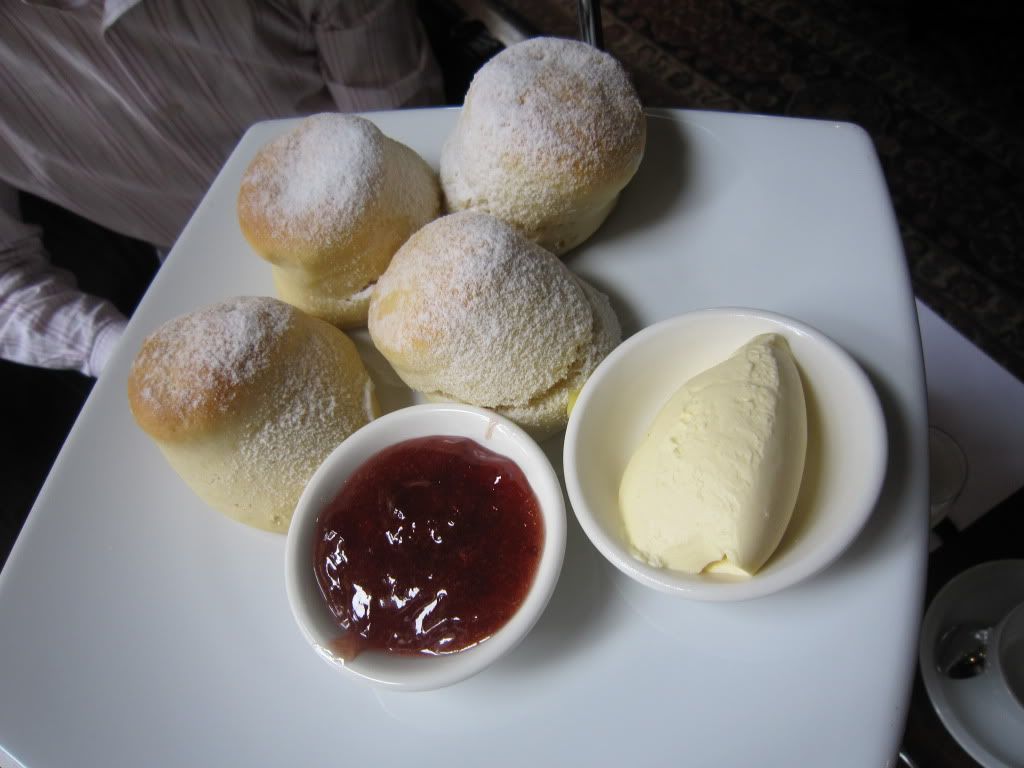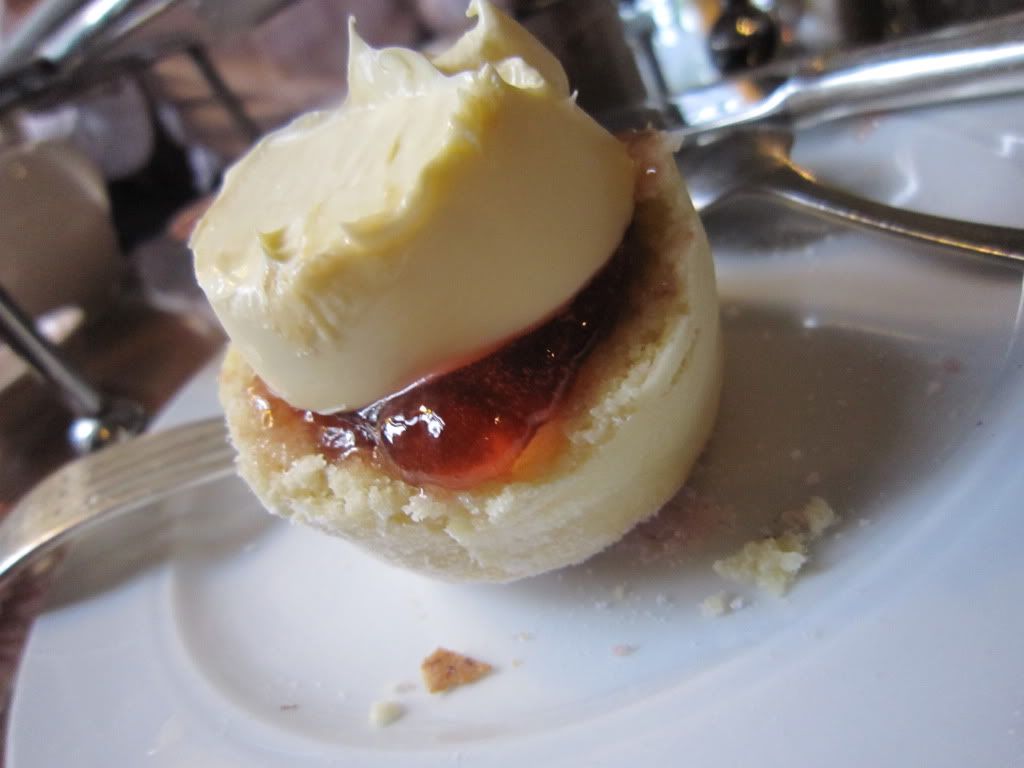 This is how i like it =)
1st Plate – The scones were wonky, but definitely fluffy. I definitely enjoy the scones with clotted cream opposed to their king island cream. The jam was average, something i could purchase from coles, opposed to T2's raspberry jam.. oh the goodness of sugar.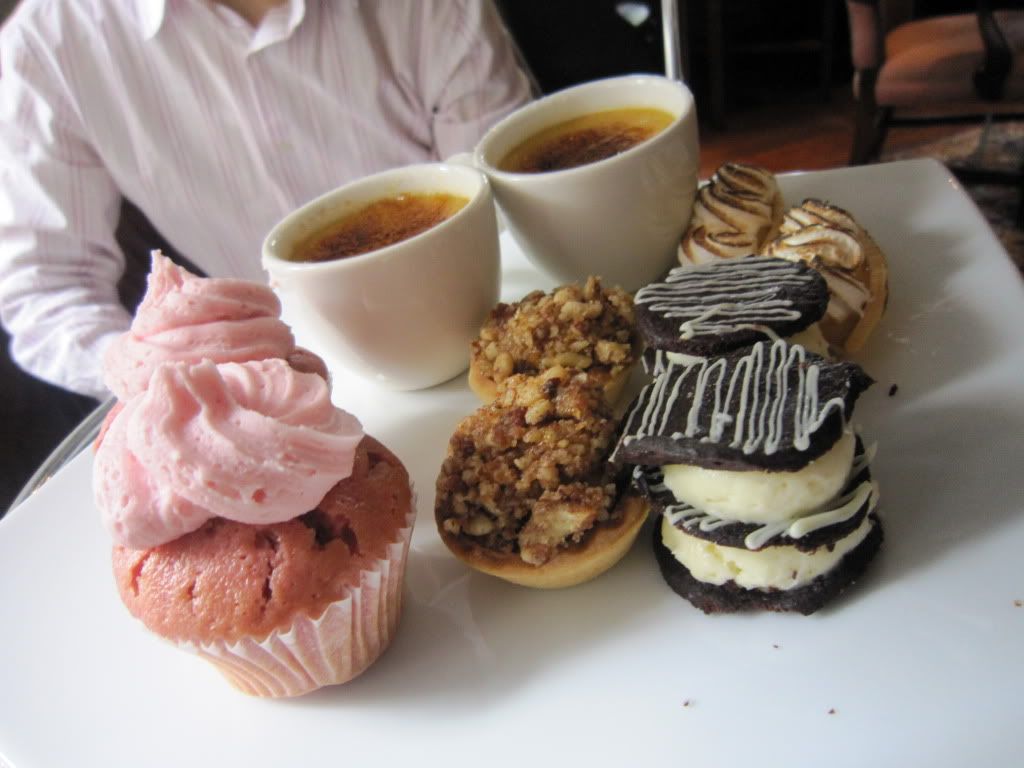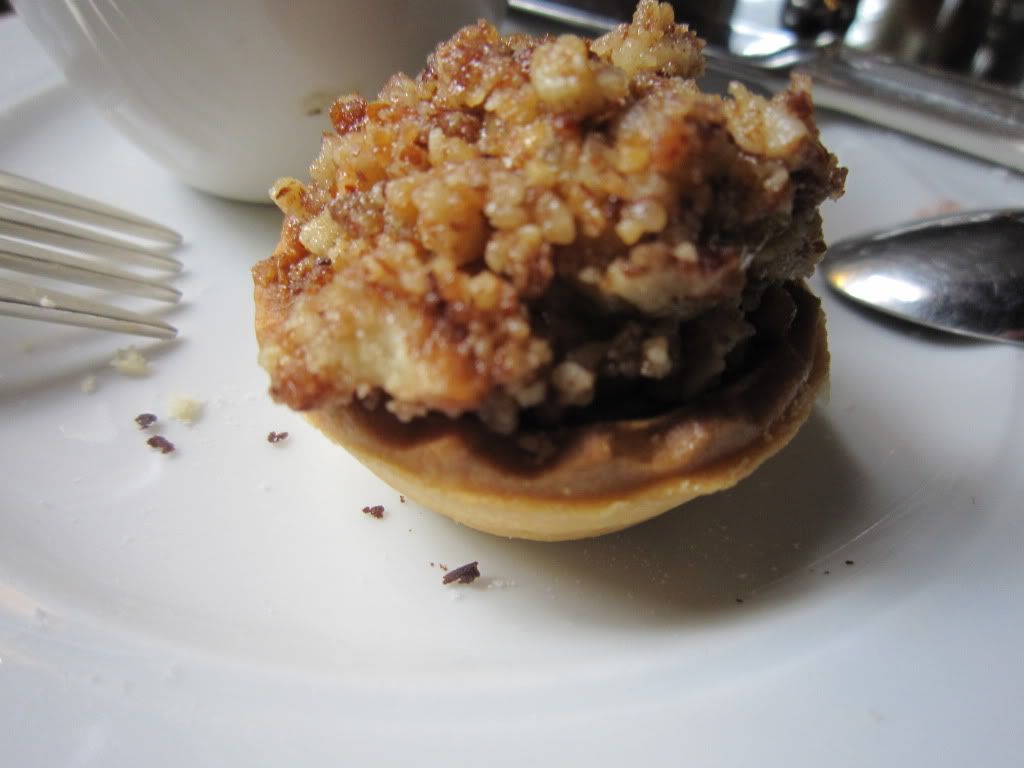 Ken's favourite dessert of the day
2nd Plate – Desserts, Dolly's FAVOURITE.
1. Strawberry flavoured cupcakes with white chocolate icing – This wasn't anything grand, the icing was toooo sweet.
2. Chocolate Melt Biscuit layered with Coconut cream – Divine! It was very crumbly that we had to use folks to eat it.
3. Wattle tree crème brulee – Unfortunately i didn't finish it, though it was well done, there was the right amount of sugar and the right amount of cream = delicious.
4. Caramel and pecan nut tart – I love it how they actually caramelised the nuts before grinding them. The caramel cream mixed with nuts was a bit too sweet, though acted as a perfect complement to the tea ordered.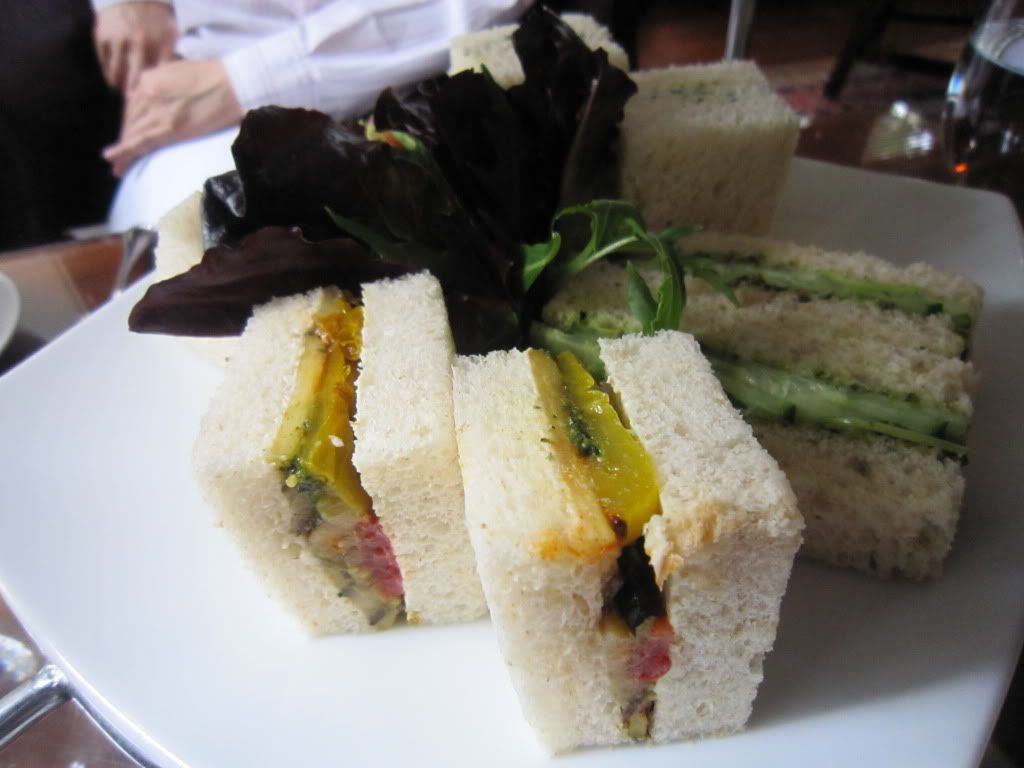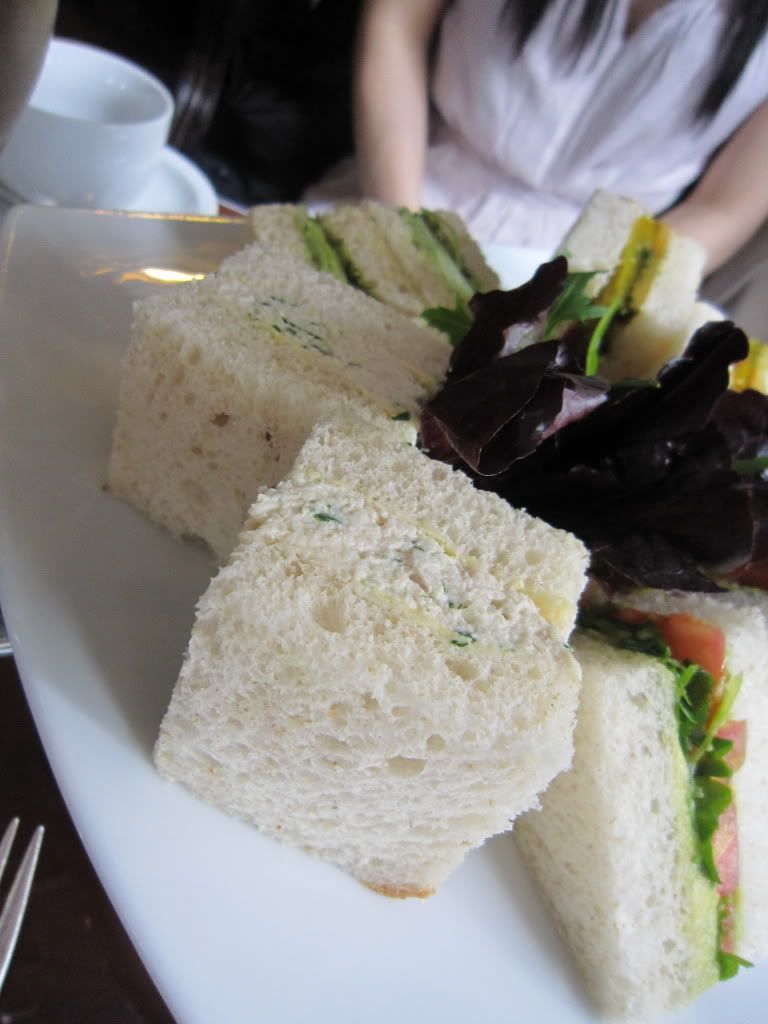 3rd Plate- Sandwiches were tasteless, dry and some of the crust was still intact!
Flavours included:
1. Avocado, watercress and tomato – this was a substitute to salmon.
2. Poached chicken with mayonnaise and chives
3. Mediterranean eggplant, tomatoes and Goats cheese
4. Cumcuber and pesto. (needed more salt)
High Tea - $44 per person with a glass of wine and tea.
Ken -
For high tea, we were situated in a Victorian-esque room with fabric wallpaper! I decided to try their African vanilla tea, which was very nice especially when drunk with milk as it had a creamier feel to it. As for the food, the scones were very fluffy though lop-sided today, but it's what goes in your belly that matters more! The sandwiches made here were very plain to the point where I was tempted to spread jam on them to give them more taste. Finally the sweets were quite well done and filling and extremely sugary. My face couldn't stop tingling for about 15mins after taking one small bite of the icing sugar on the fruit cupcakes. My favourites from the high tea would definitely be the caramel and pecan nut tart, definitely need to learn how to make it for myself. All in all a very lovely experience, and thanks to Dolly I can say I have tried proper high tea!
Dinner Time..
Ironically we spent $4+$2 for dinner... Yes you heard right! SIX DOLLARS and let me tell you it was money well spent opposed to $44 per person high tea hahaa.
What was so cheap that i still to this date have cravings for?
*drum roll*
McDonalds – McDoubles.
To be honest, im not a big fan of fast food, and rarely eat McDonalds though this time i must confess McDoubles WIN WIN WIN =). Unfortunately Ken never got the real deal, since i kept licking off all the cheese. I'm sure Thursday McDoubles did you justice.
Quote of the Day:
"Don't ever take a fence down until you know why it was put up"
- Robert Frost
End Notes:
- Very average. T2 far more value
- McDoubles = WIN, cheap and cheerful. I LIKE!
With Love,
Dolly and Ken
Places:
Grower's market - Pyrmont
Sir Stamford Hotel - Circular Quay
McDonalds – Victoria Road and West