Rose are red, Violets are blue, Chocolate is sweet and so are you.
Empowered by a multipass 2, we decided to maximise our consumption. Kings Cross it is!
Dinner at Harrys, I must confess Harry's Cafe De Wheels use to taste ohh soo good. They must of cut down on the quality of food now *sniff*. A word of warning. NEVER eat from Harry's near Capitol Theatre. BIG MISTAKE.. don't compromise!
Travel to Woolloomooloo if need possible!
Kenilli being an avid chocolate fan opens doors to Dolly doing research on nice chocolate houses. So heres our first chocolate house we've devoured.
Boon Chocolate.
What does Boon mean? Its Bean in Spanish.
Owned by Philippines brother and sister Alex and Fanny chan. They specialised in European and Belgium chocolates. Their philosophy is "best natural ingredients and flavours is the key".
What did we devour?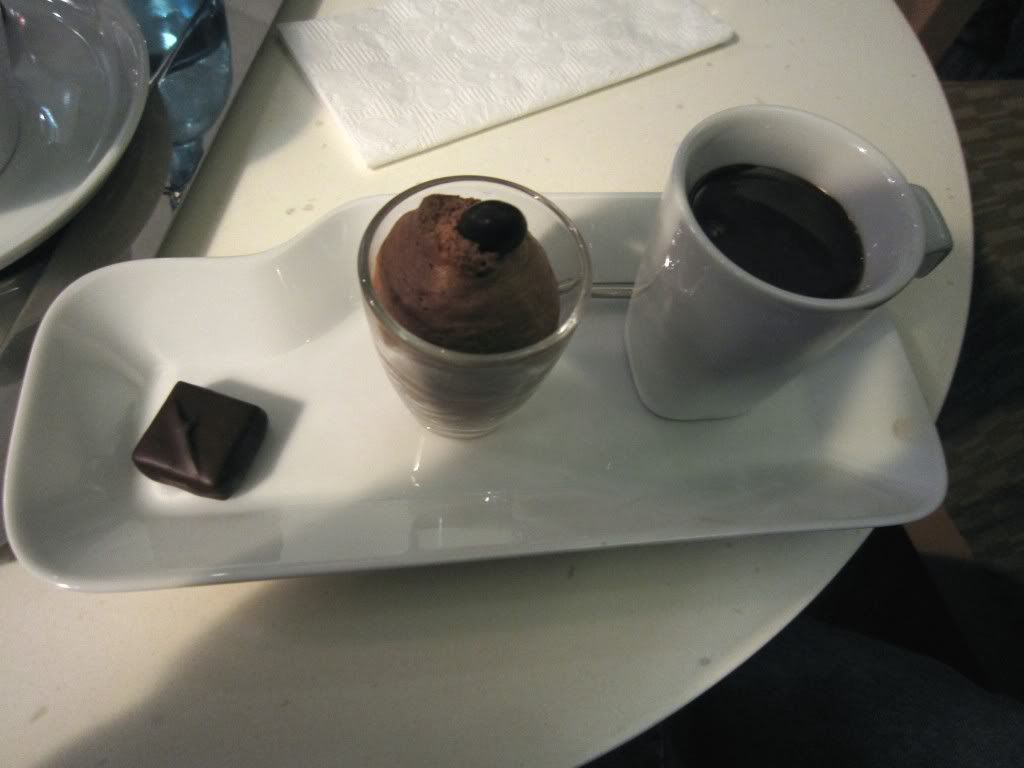 Grenada (South America) (served with a Boon praline and chocolate mousse) - $9
Ken - "This is liquid gold". Not too thick, creamy and velvety chocolate would be my description. I'm no avid chocolate fan, so yes I'll have trouble describing my experience.
Ken "yeah the chocolate drink was good though needs to drunk hot cos it started to solidify once cooled down...the chocolate sauce was proly nicer though...had nicer texture and was lighter in sugary-ness"
Nevertheless Ken really likes this drink, so if you are an avid Chocolate fan, you might want to try this.
Ken's praline was Jasmine.. it was divine, hard outside, filled with dark chocolate lightly scented with Jasmine Essence. This would win my heart hahaaa.. (maybe)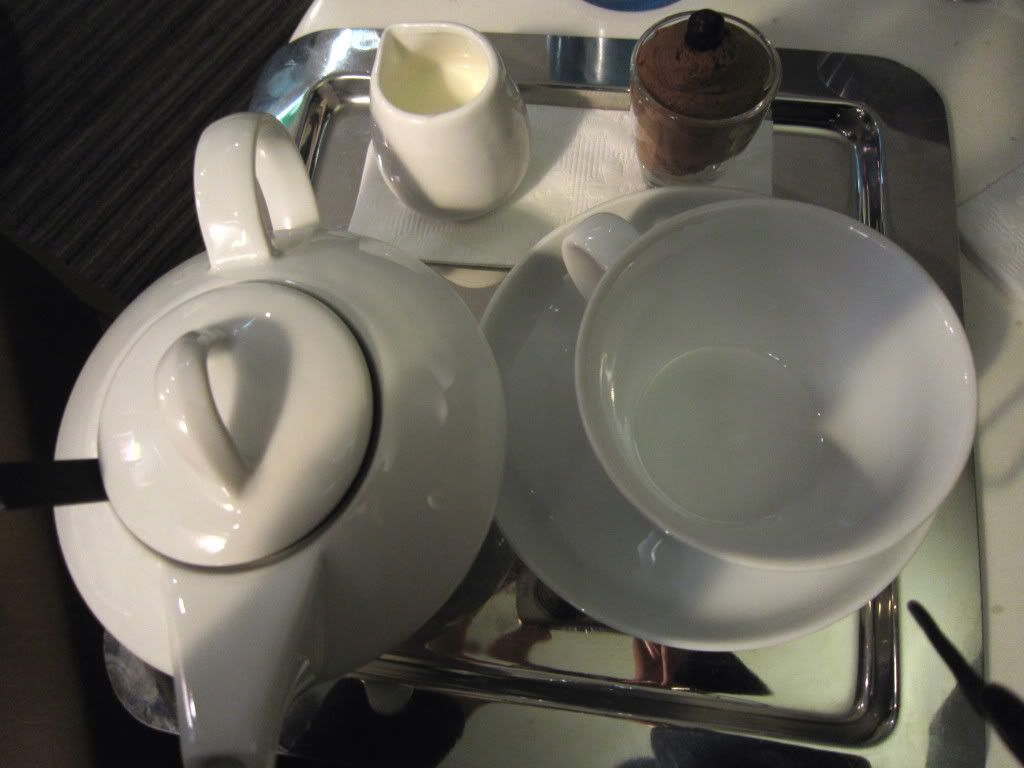 Classic Chai - $8.50
Renowned Indian spice tea made from malty assam tea. Perfect with milk and sugar.Tea served with Boon praline & chocolate mousse.
This chai would closely come 2nd, i still favour Bills chai. Why do i rank Bills Chai 1st? Home brewed, i guess accompanied by some honey really brings out the cinnamon in the Chai.
Nevertheless Boon's chai was lovely, though lacked in honey or sugar. To be honest the chai didn't go well with the chocolate.
My praline was just normal chocolate, which Ken gladly gobbled up.
The chocolate mousse was served in a shot glass, with a chocolate bean on top; the shot glass was enough for me to feel satisfied.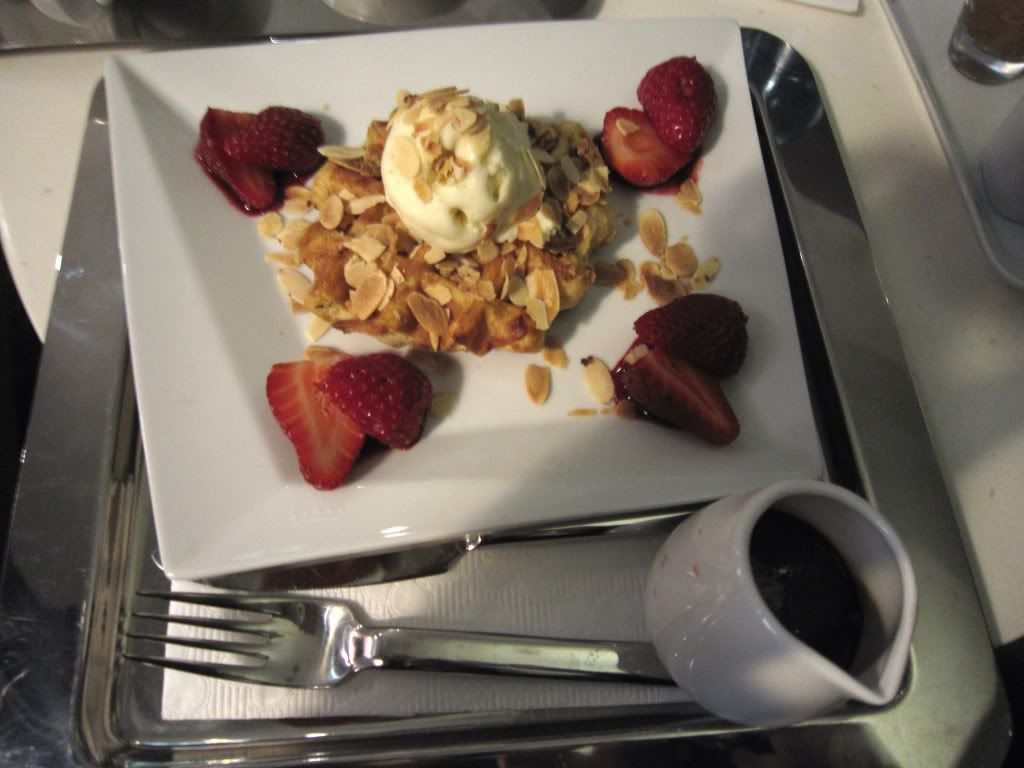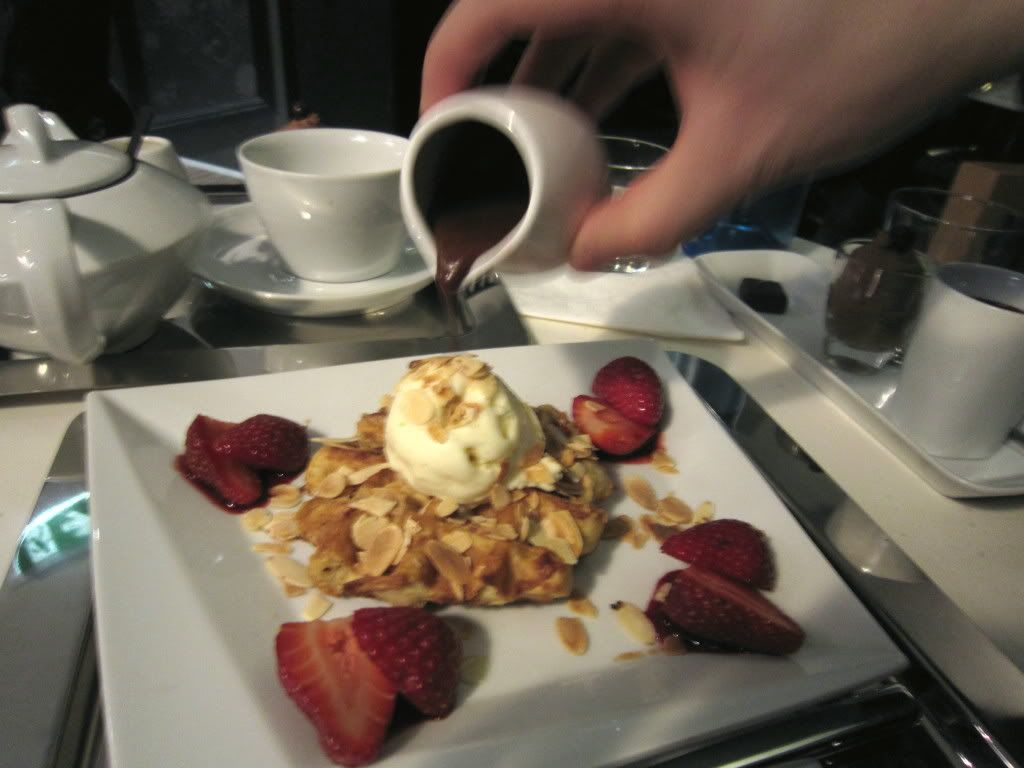 Perfect shot the chocolate sauce just about to hit the waffles!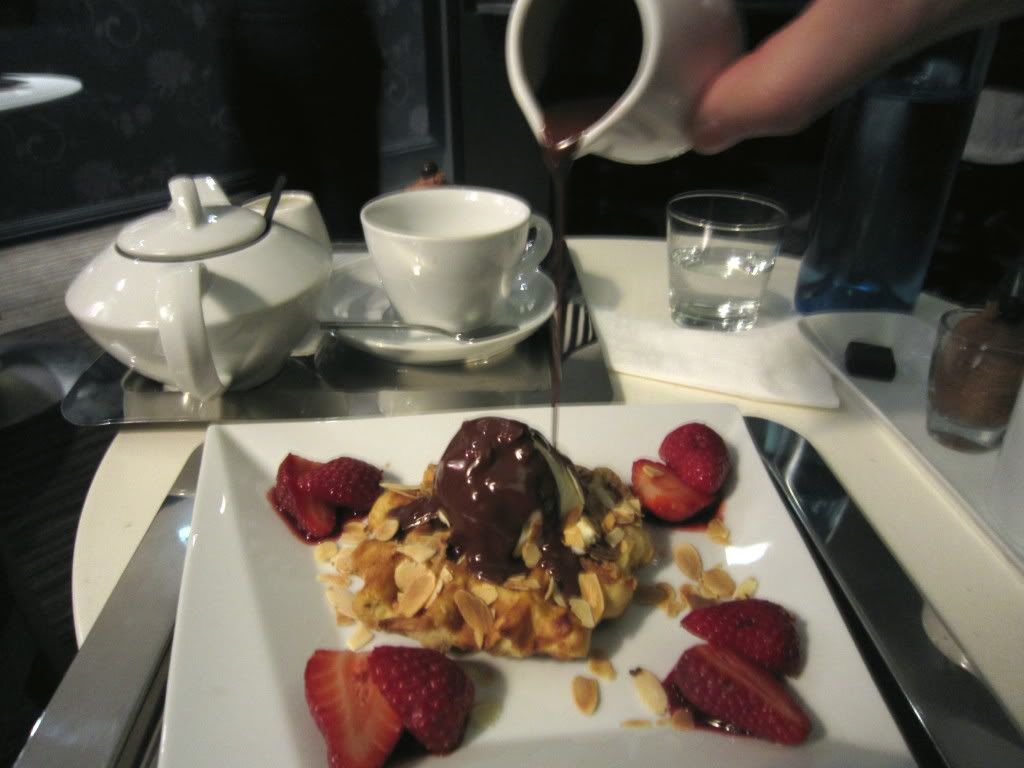 Sauce meeee!
Belgian Waffles with Fresh strawberries, almonds, vanilla bean ice cream and Boon chocolate sauce - $14.95
This did look stunning at first a lovely palette of colour, though the waffles were a bit undercooked and too salty for my liking.
After devouring such sugar laden dessert we were kindly asked to leave around 10pm, we were the last to leave, I ended up buying my dad another self confessed chocolate lover a box of these babies: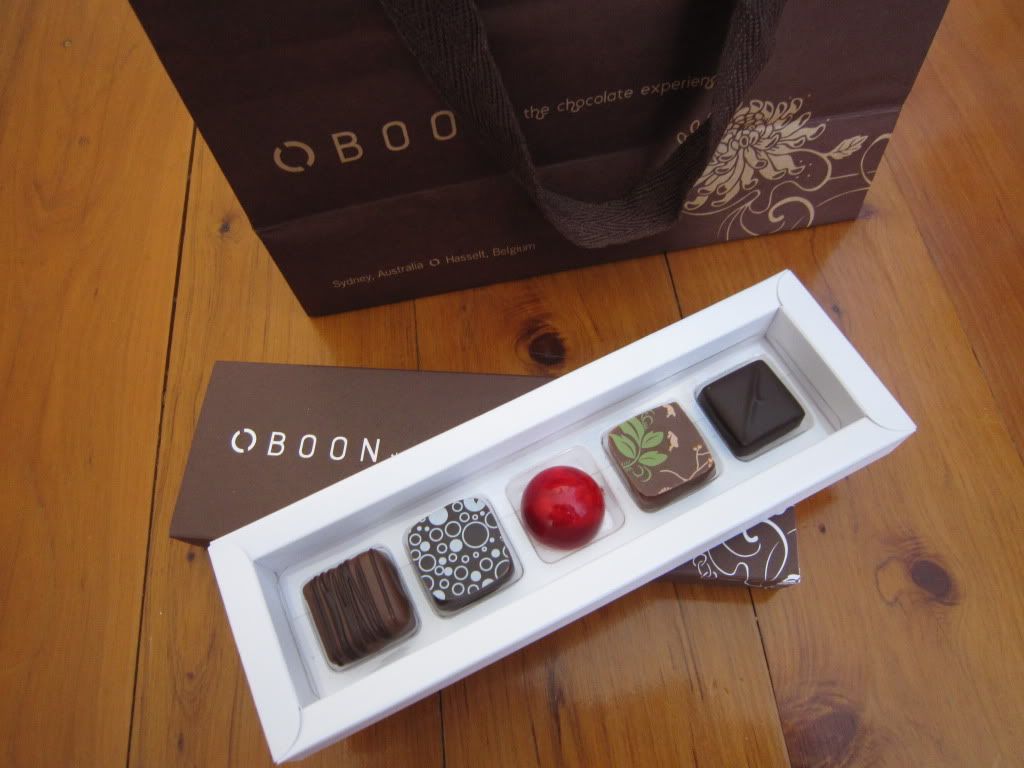 5 chocolates - $13.50 the flavours include:
'Arabica' - Freshly roasted coffee praline, 'Kurobiko' - Roasted sesame with rice crispies praline, 'Mira' - White chocolate ganache infused with Tasmanian mountain pepper berry and strawberry, Next one the flavour isnt on the webpage >< and lastly 'Jasmin' - Dark cho, ganache infused with jasmine tea.
We also managed to spark up a lovely conversion with the owner Alex Chan.
Well when I was paying he was like you're an Accountant, I hate them. Dolly = Instant dislike. -_-" . Also they weren't keen on me taking photos *sigh no chocolate porn for you, please visit the site below*
Alex is from the Philippines and he was very passionate about incorporating his own heritage into something he loves to make (ie. chocolate). He also gave us a complementary Lemongrass praline to share (called - 'Saigon' - milk chocolate ganache infused with lemongrass). Our thoughts – Asian fusion chocolate, not our taste really. I think it sort of tasted like Vietnamese Beef with Lemongrass haha.
Then we started to talk about how Vietnamese and Philippines are stereotyped to be "bad". Yes from 1st hand experience, it's so sad.. I mean there is a small minority of bad people from every country. Though Vietnamese and the Philippines are mainly blackspoted , especially in Taiwan.
Having been to Taiwan and been discriminated myself. I know how it feels, apparently Taiwan people hire a lot of Viets and Filos people to do their "dirty work or like mail order brides". On the flight from Taipei to Saigon I saw a lot of viets, injured from: Limping to Burn Marks on their skin going back to Vietnam. It's so tragic!
WE ARE ALL HUMANS SERIOUSLY. TREAT US WITH RESPECT.
*Sad face* --- It makes me think to myself, Am I really proud of being Vietnamese?
I highly respect people who are able to do what they love and be able to help the community. Boon donates a percentage of their sales to a trust bank in the Philippines which help women start businesses and build their way out of poverty.
Donate: www.opportunity.org.au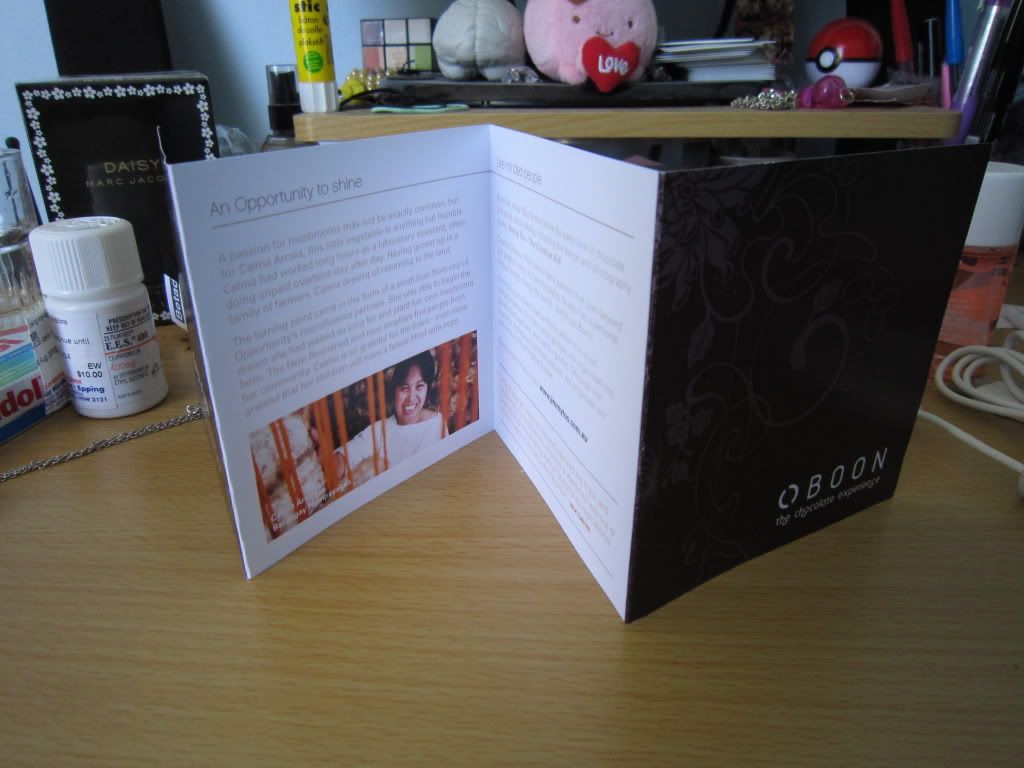 End Notes:
- Lovely atmosphere for couples or couples to be.
- Highly recommended for self confessed chocolate lovers
- Why not eat chocolate guilt free, knowing that a small percentage that you pay goes towards a good cause?
Quote of the day:
"The small loans made available to entrepreneurial women living in the Philippines are the best gift we can give back to the country who has given us so much"
- Alex & Fanny Chan.
To Alex and Fanny Chan, all the best with your business. I really enjoyed the chocolate experience, though I will not subside to chocolate!
With Love,
Dolly
Places:
http://www.harryscafedewheels.com.au/
http://www.boonchocolates.com.au/